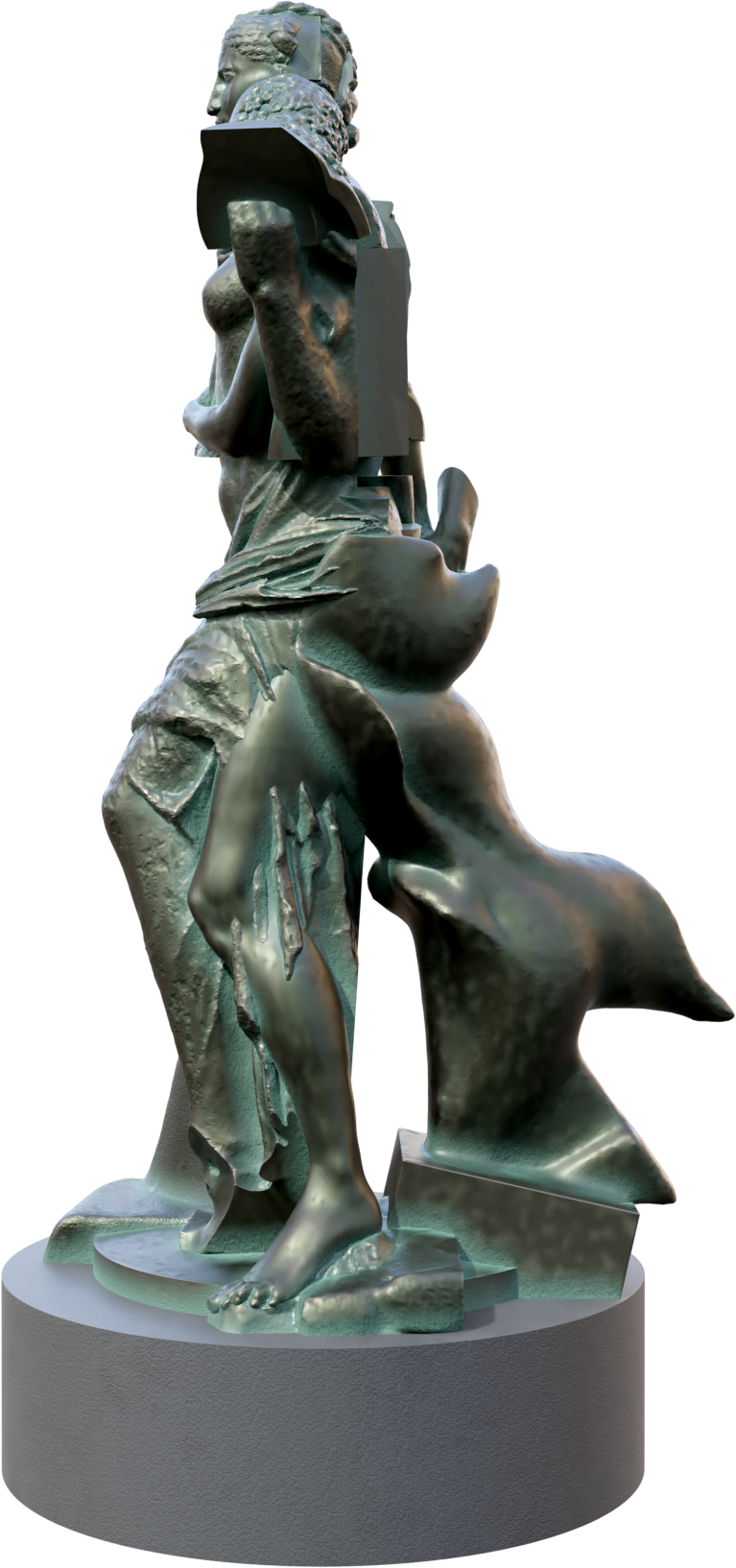 1 The shape of this work was created combining fragments of a variety of mostly well-known sculptures︎︎︎, both from international collections and ones that can be found locally in Leiden such as sculptures from the RMO, het Wereldmuseum Leiden, Museum de Lakenhal and the façade of the entrance of the town hall.
2 Quite a few people who are familiar with Leiden's famous painting Het laatste Oordeel by Lucas van Leyden︎︎︎ see a striking resemblance between a certain back part of the sculpture and a detail of Het Laatste Oordeel showing a mischievous angel︎︎︎.
Wij

This bronze sculpture (2022), prominently placed in public space in Leiden (the Netherlands), can be seen as a parody on 'the classical statue'. A three dimensional collage of clichés that merges art historical ideals of beauty and gender into a stature of constant flux.
The shape of the work was created in combining fragments of 3d scans, both of existing well-known sculptures from art history, as well as from the hands of people from the local 'rainbow community'. In this sense the work is photographic; build from detailed imprints of physical reality.

The work was commissioned by COC Leiden in conjunction with the city council of Leiden, aiming for greater visibility of 'the rainbow community'. At the time the sculpture was revealed, the very idea of this commission evoked strong reactions from the general public, both positive and negative. And although I prepared myself for the possibility that putting work in public space brings it's meaning and impact way beyond that of my personal and artistic perspective, I felt strongly affected by the public reactions, like a sorcerer's apprentice surprised by the powers evoked by his very own practices.
But - as I now tend to phrase it – amids a societal context full of seemingly opposite opinions, the sculpture themselves seem to stand fiercely unaffected; stoic in their inherent irony.