The complexity of the world and the ways in which we navigate in it tend to alienate us from the very essence of life. With In Paradisum, Hauser investigates the possibilities of restoring a pure and more direct contact with the world. By extracting the sensory experiences of the textures and colours of images using digital methods, he separates them from the concepts and ideas they carry.
For Hauser, the application of techniques goes further than craftsmanship; in many projects it embodies the essence of his visual poetry. In this work, he applies photographic imagery as paint in a way that resembles the ancient Japanese art of marbling, Suminagashi. By radically distorting the visual qualities of images collected from the public domain, he erases their intended narrative. The results are reminiscent of action painting, where the work derives its power from the direct way in which the colours, textures and kinetic quality of the strokes of paint speak to the audience.

In Paradisum, - on display during BredaPhoto 2022 - presents to us a fluid garden, in which sensory freedom is reclaimed from images that exist in public space found in Breda, that normally capitalize on our receptiveness to colours and textures by instrumentally nudging us to consume. The end results propose that an absence of narrative can open new ways of experiencing the metaphysical.

The fysical presentation at BredaPhoto is an immersive photoprint of 12 x 2 meters; an apotheose created with a collage of images from public space treated in the same manner as the individual images.
A selection of the individual images are shown here on this website. Although the presented images are limited in number Hauser emphasizes it is impossible to consider this collection as complete, since the ways in which photographic reality can be distorted are infinite.



Welkom op deze niet-openbare pagina met betrekking tot het ontwerp voor een regenboogkunstwerk in Leiden. Hier worden informatie en materiaal gedeeld voor betrokken partijen, er vanuit gaande dat deze binnen de context van het voortgangsproces en daarbij behorende informatie wordt bekeken en beoordeeld. Wellicht ten overvloede maar deze informatie en beeldmateriaal zijn niet openbaar en daarom het verzoek deze ook niet publiekelijk te delen.

Het sculptuur is opgebouwd middels fragmenten van bestaande beeldhouwwerken uit de internationale kunstgeschiedenis en scans van handen van mensen van de leidse regenboog community. Ook 'Leidse' beeldhouwwerken uit het RMO, Museum voor Volkenkunde, de Lakenhal en van de gevel van het stadhuis zijn toegepast.

Op deze pagina worden verschillende digitale visualisaties getoond van het definitieve ontwerp (maar uiteindelijke textuur en kleur van brons en sokkel staat nog niet vast).
in elkaar lassen, patina, en plaatsen van fundering en beeld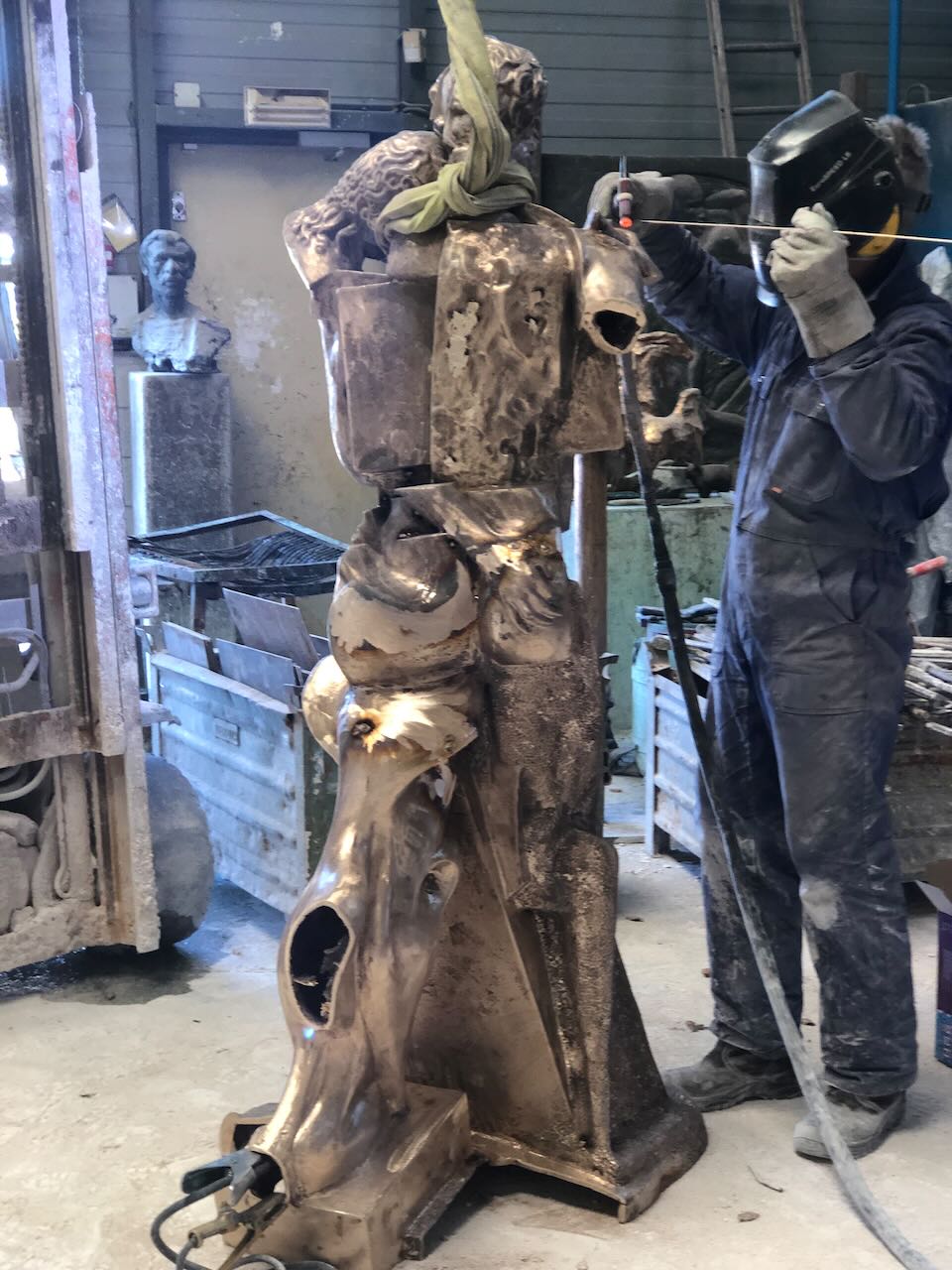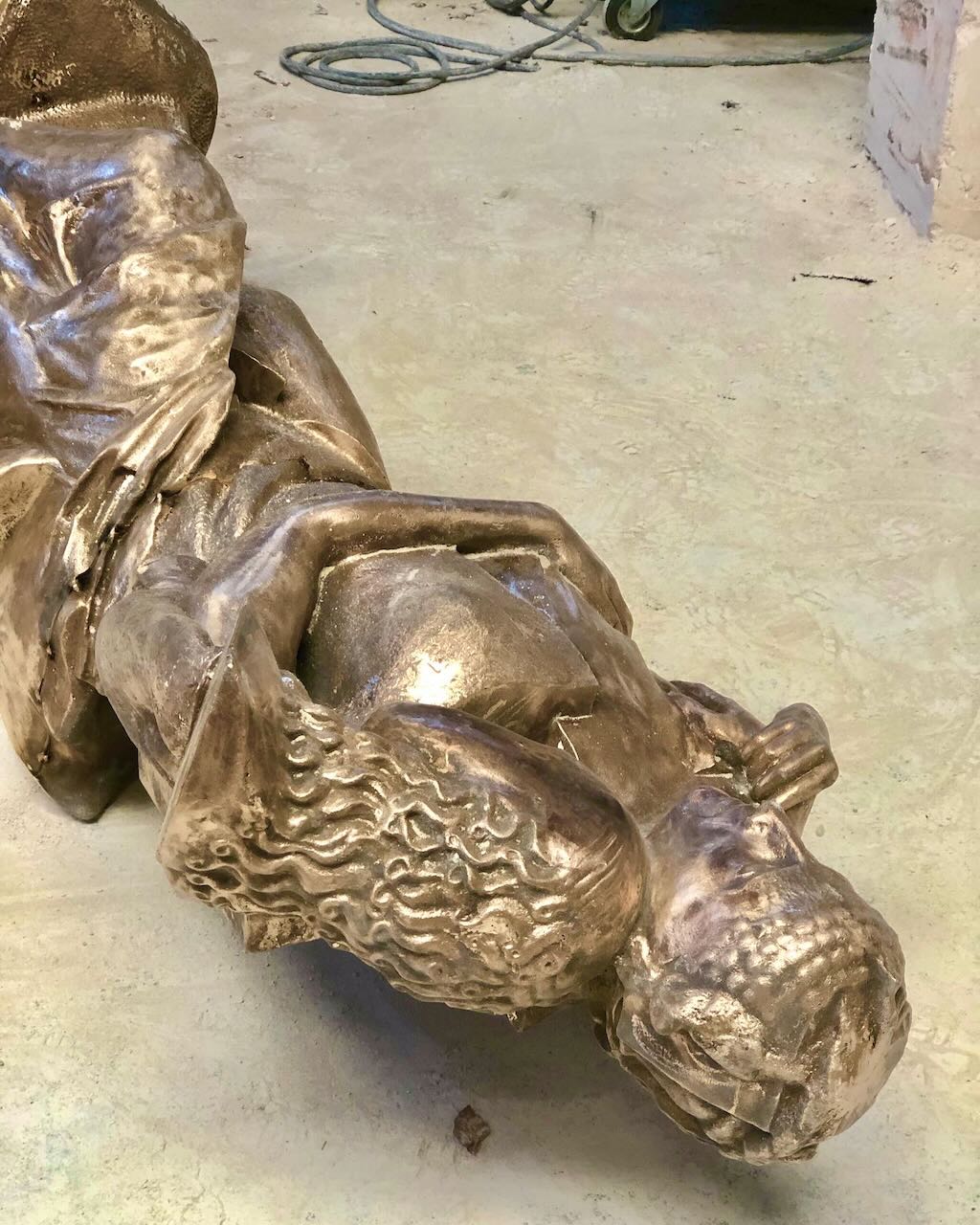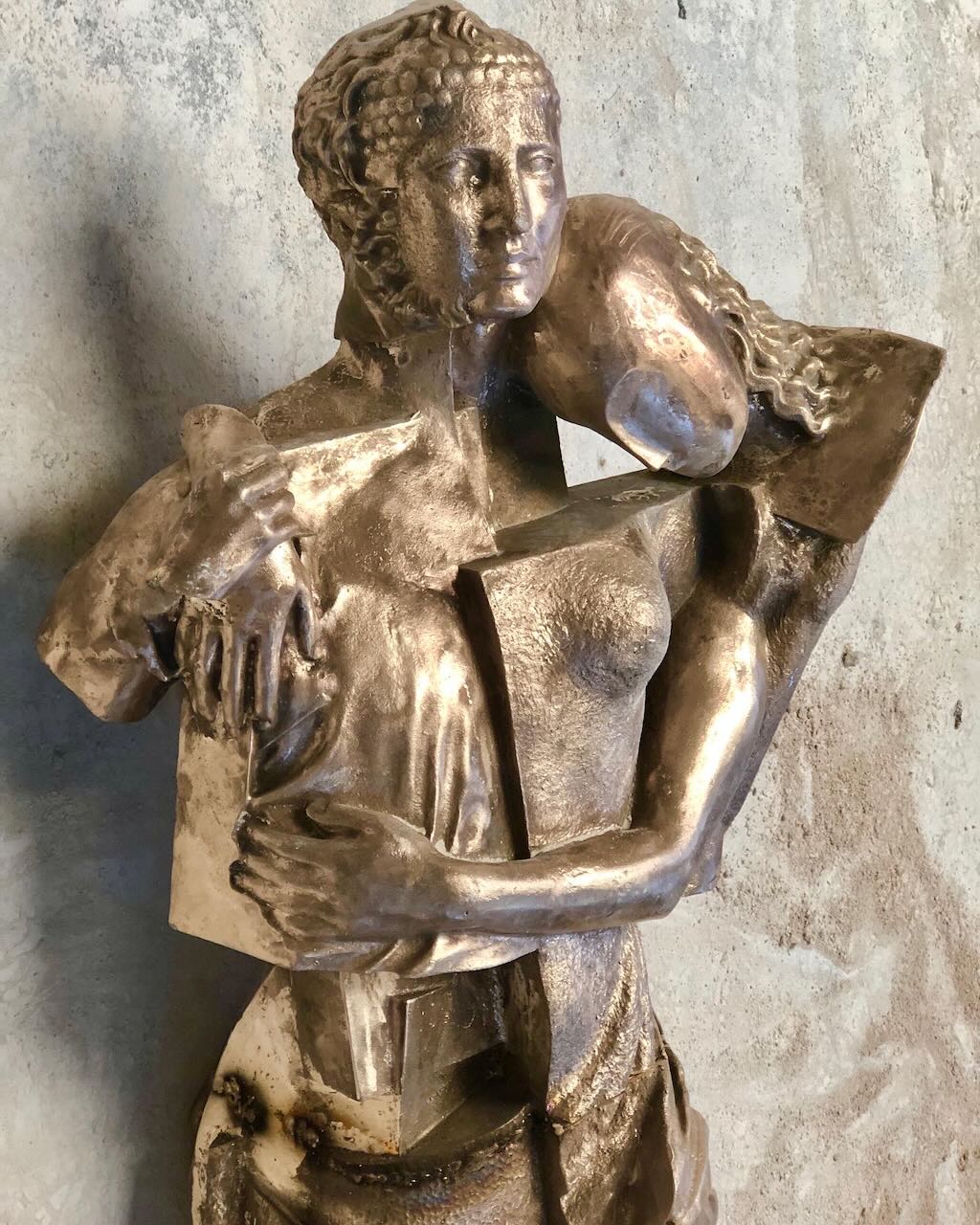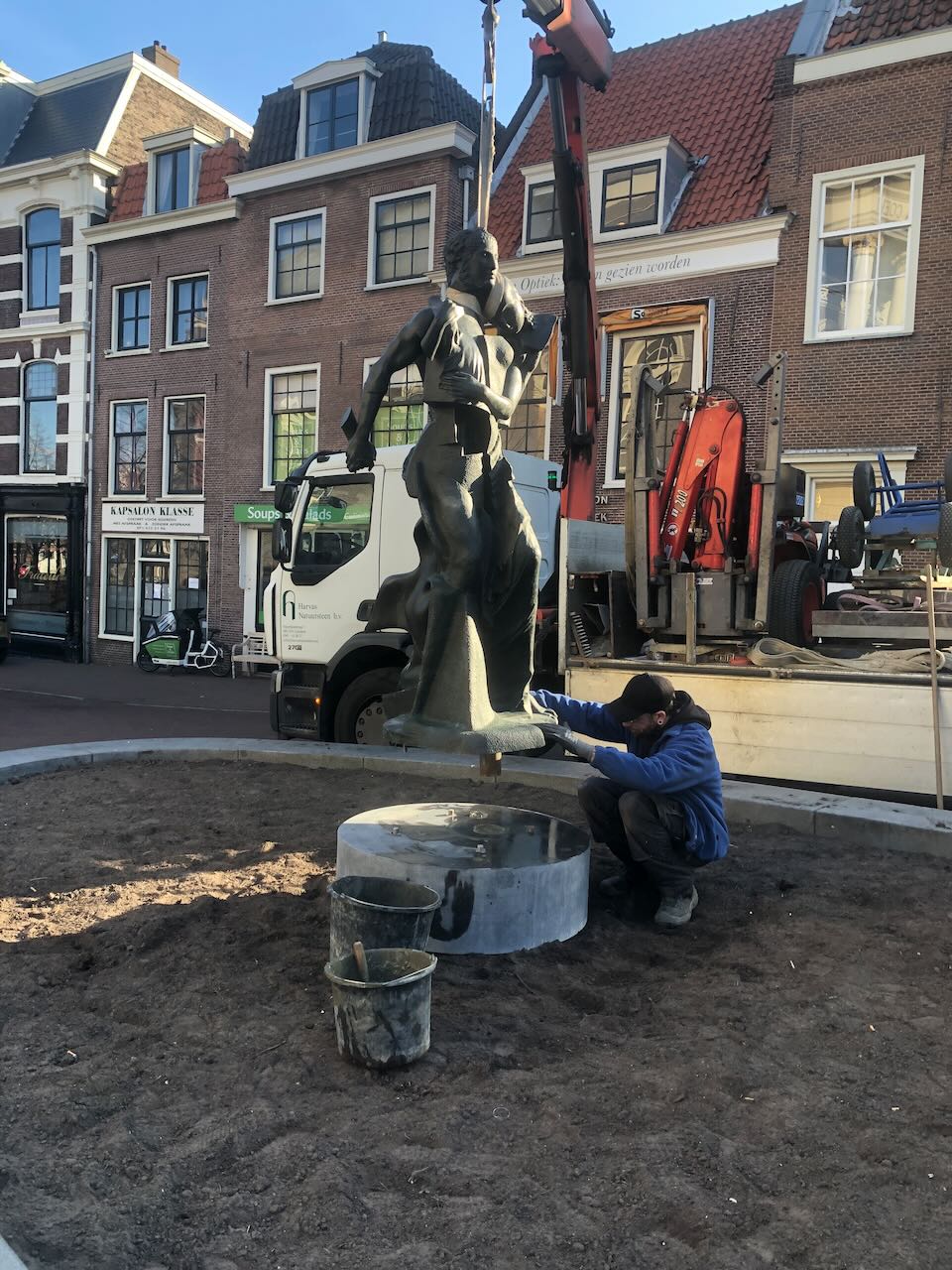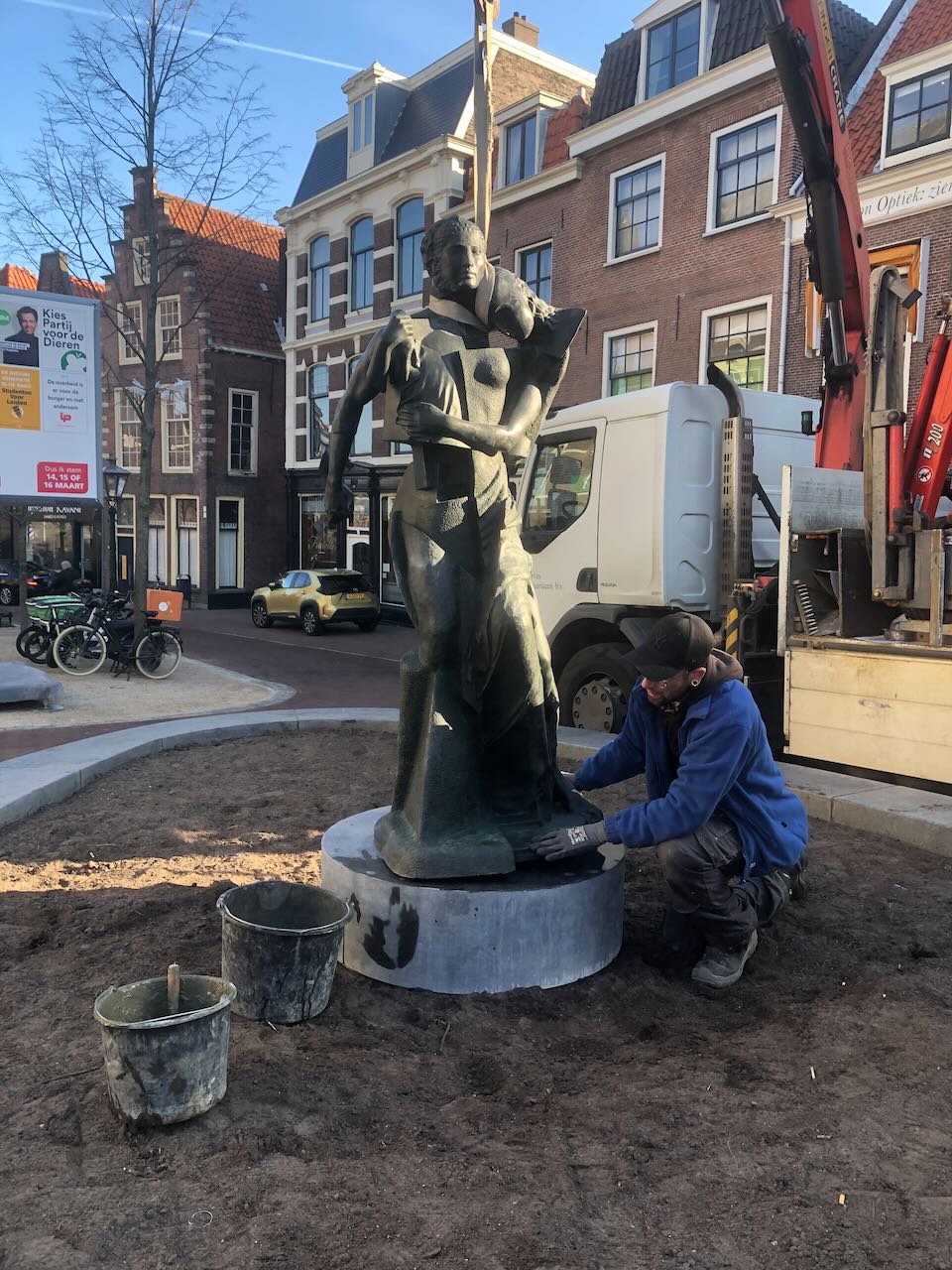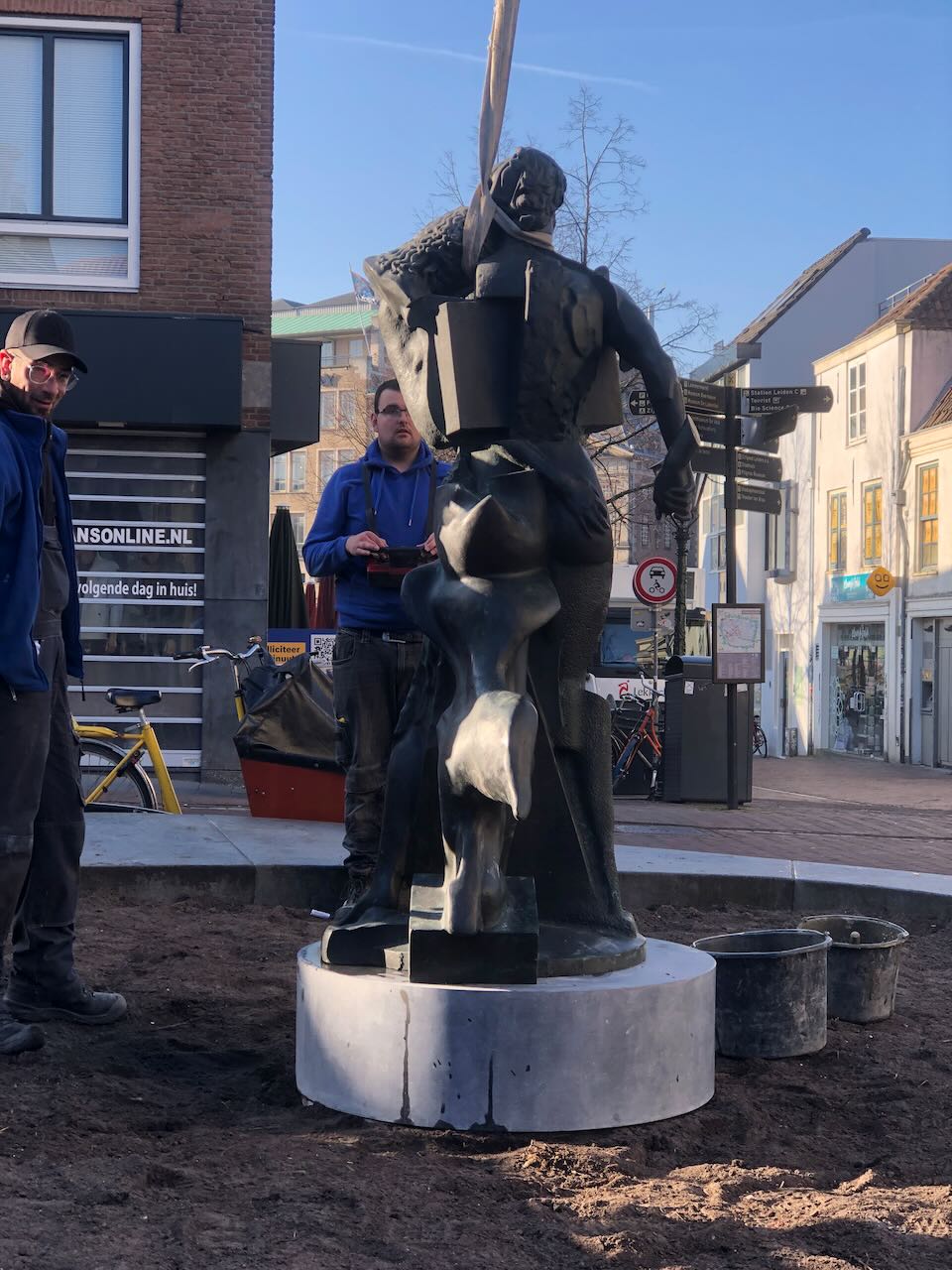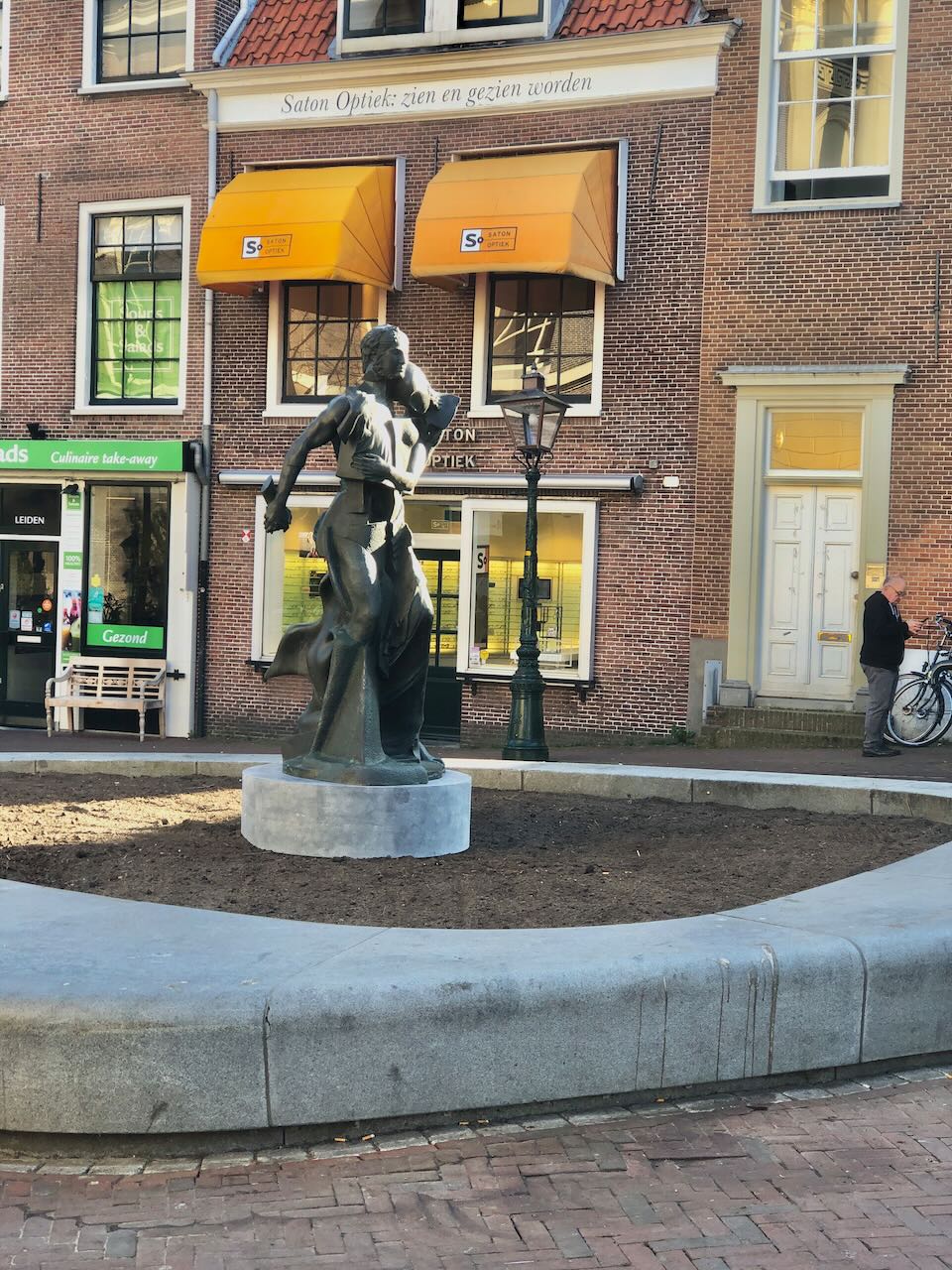 Het maken van mallen en het wasmodel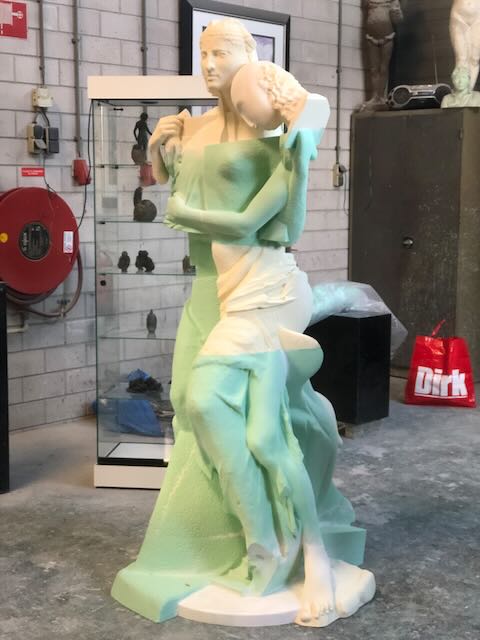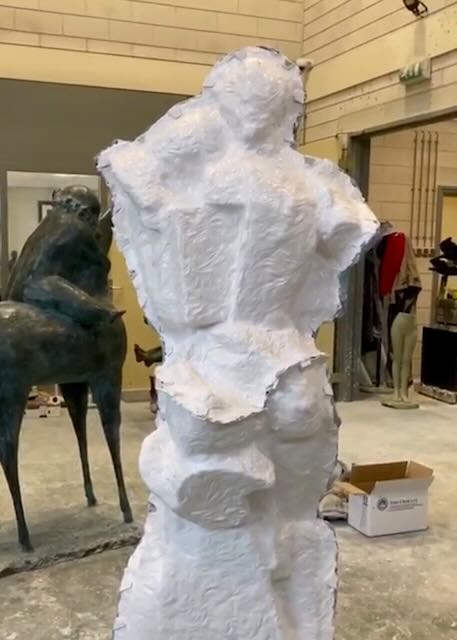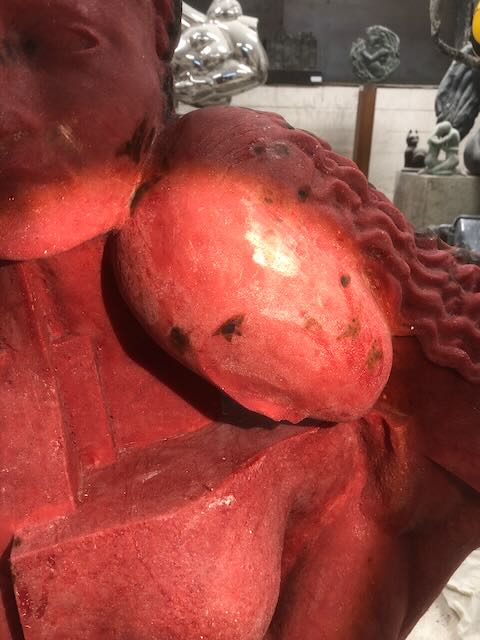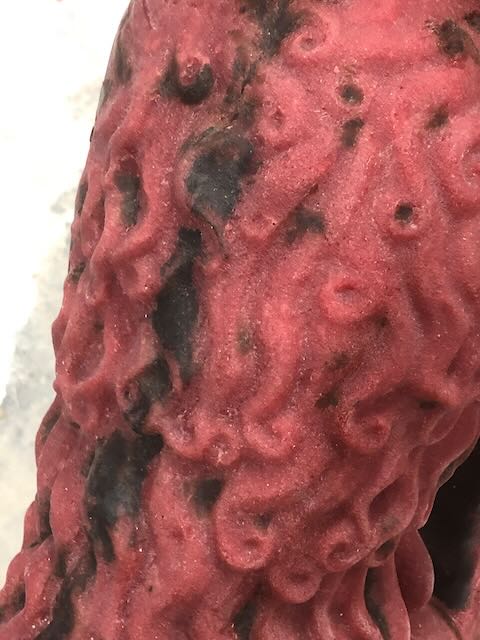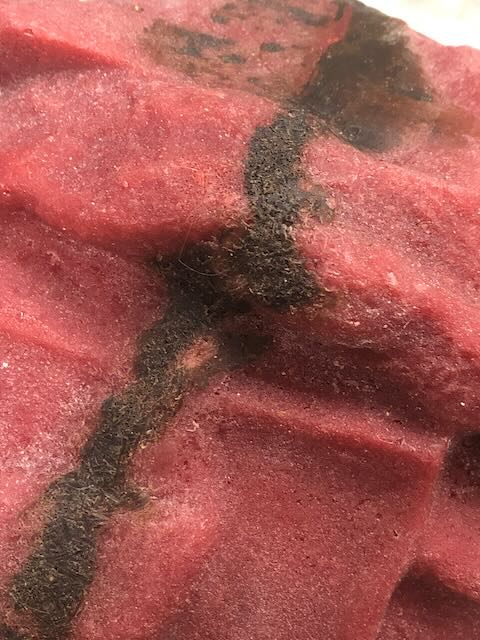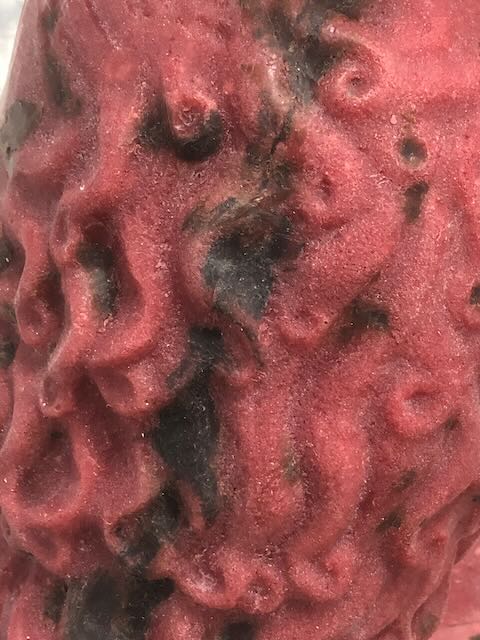 Het maken van het kunststof model
Het digitale model werd door een robot gefreesd in foam materiaal. Ik werkte deze met de hand bij.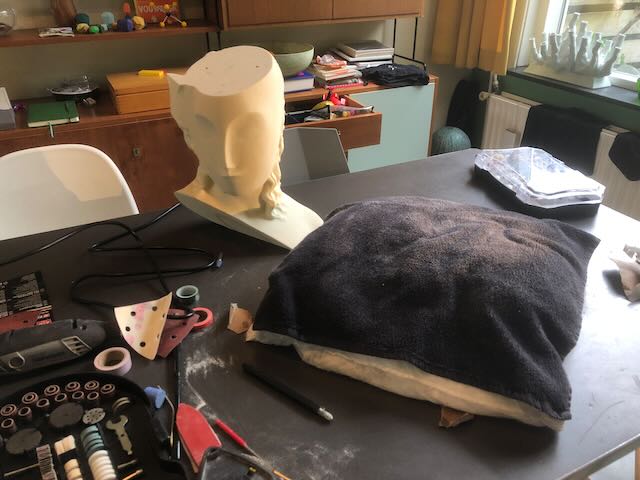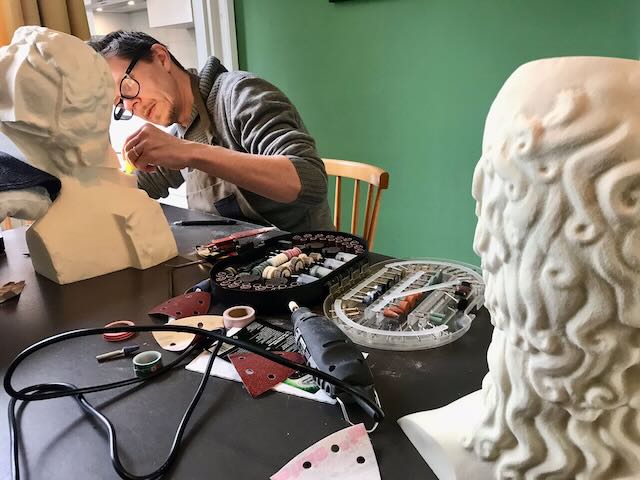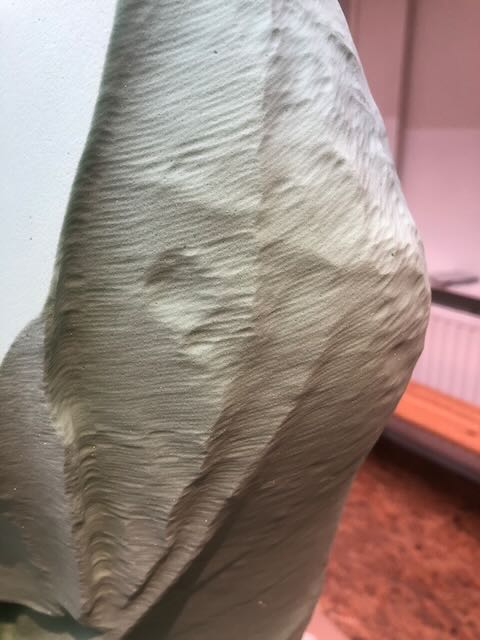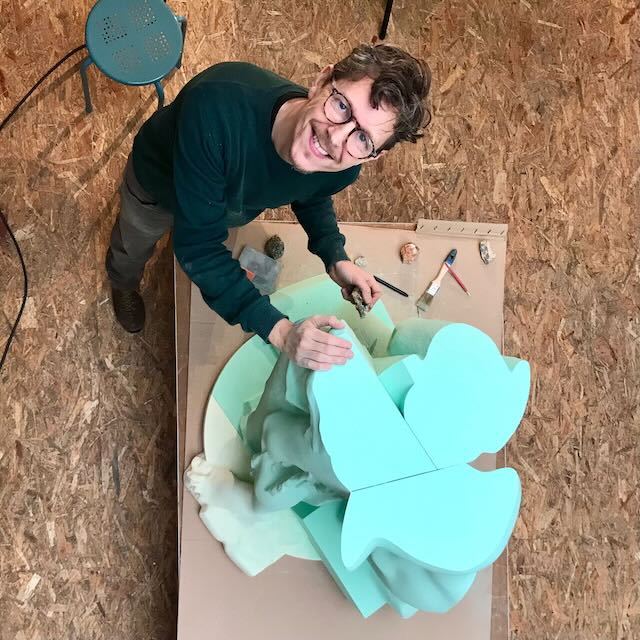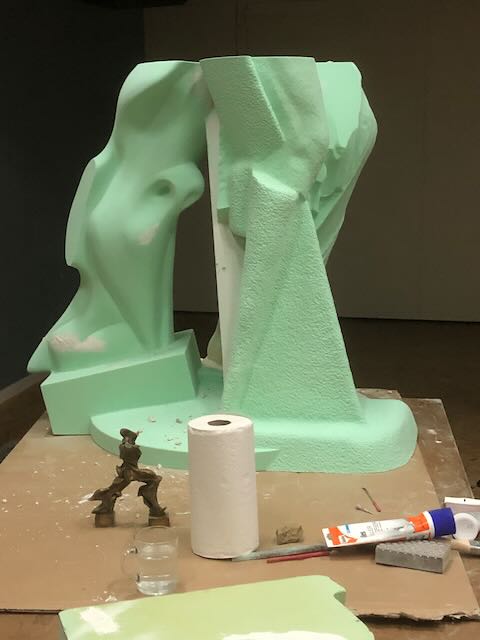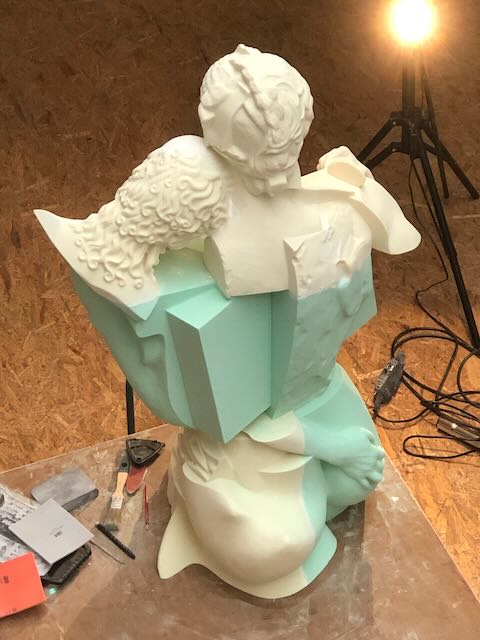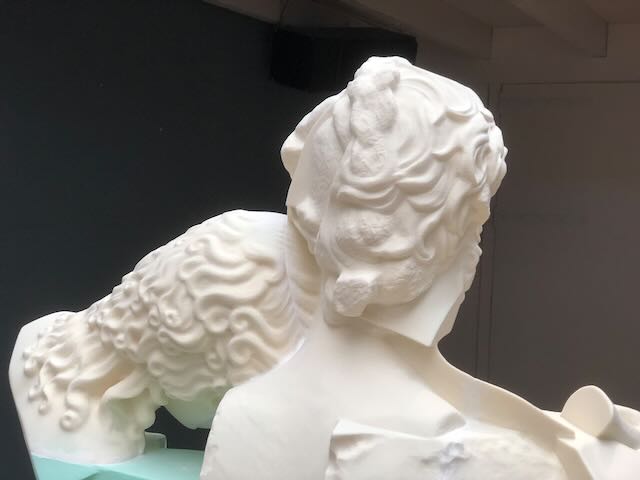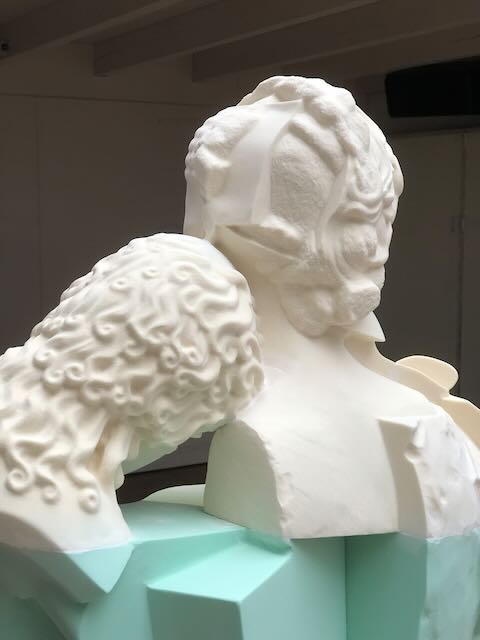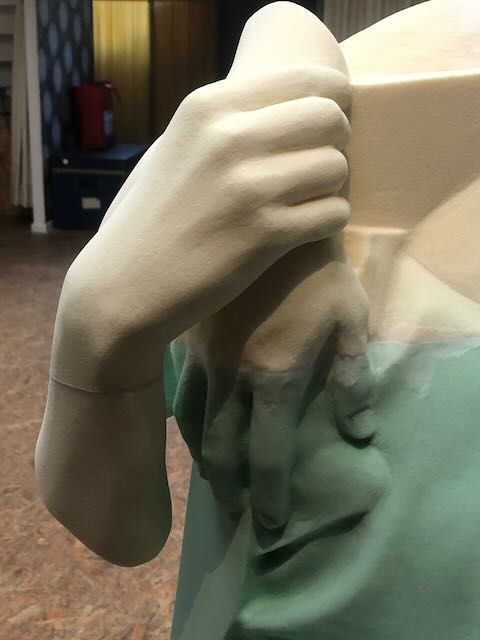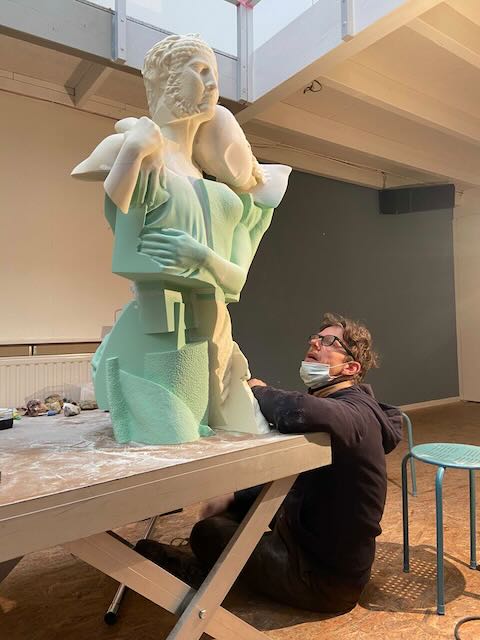 digitale ontwerp proces en schetsen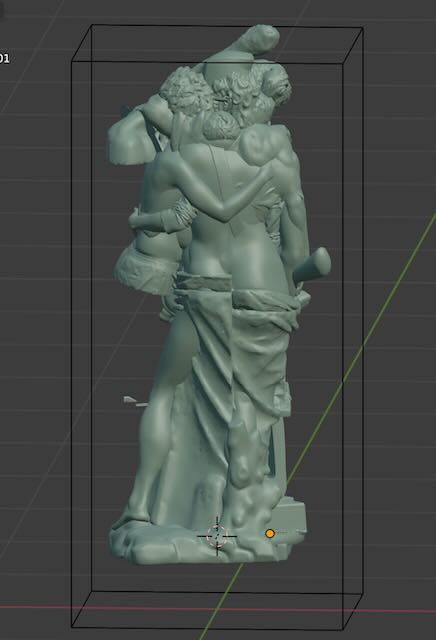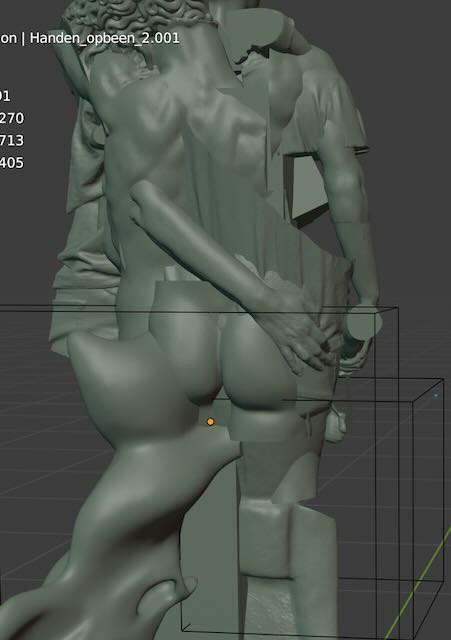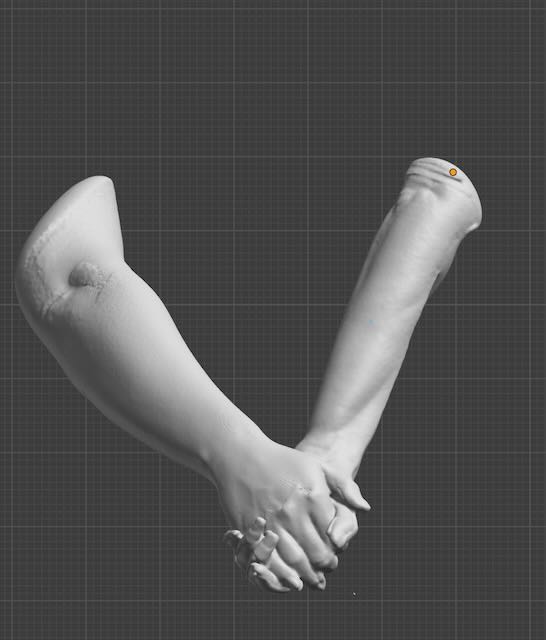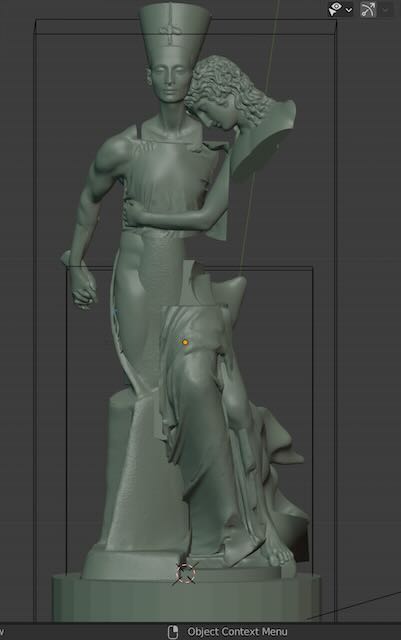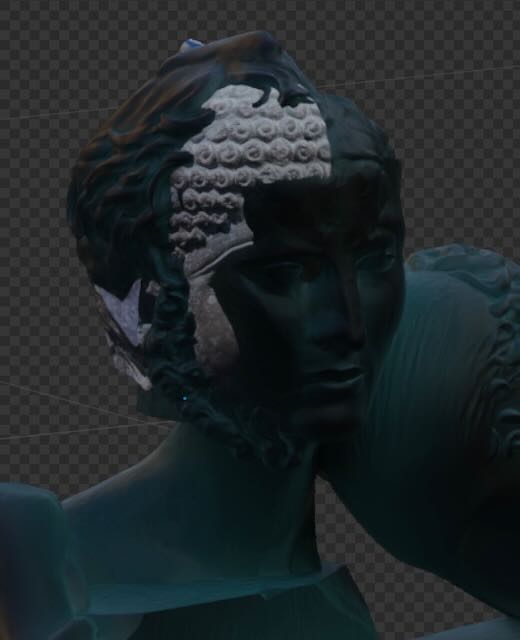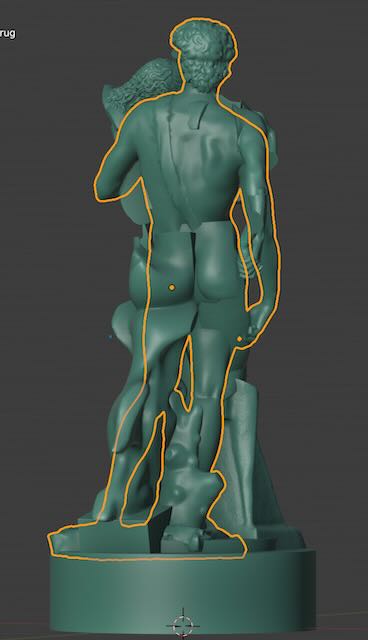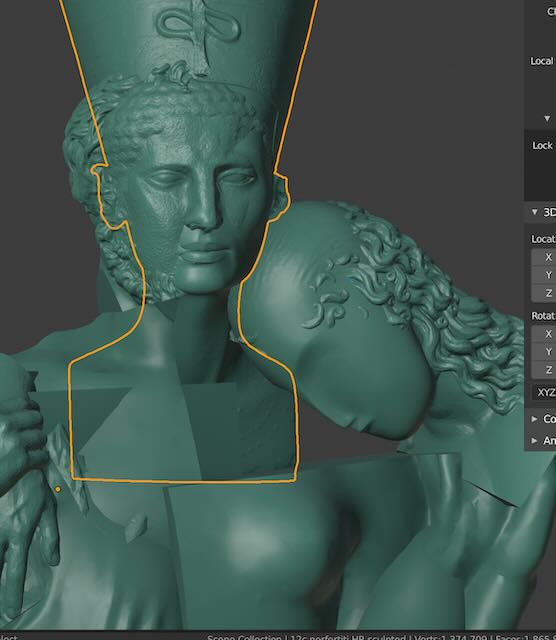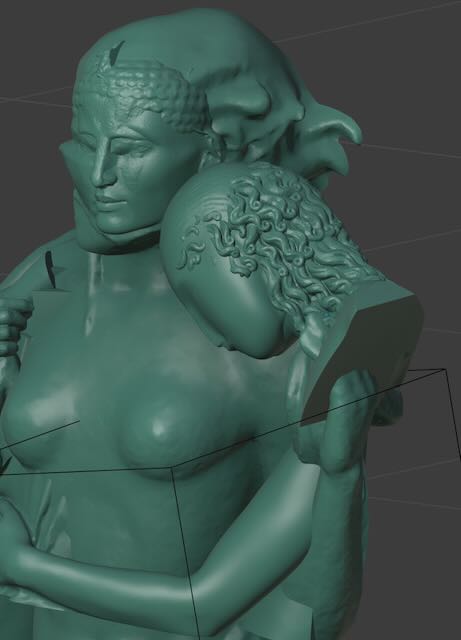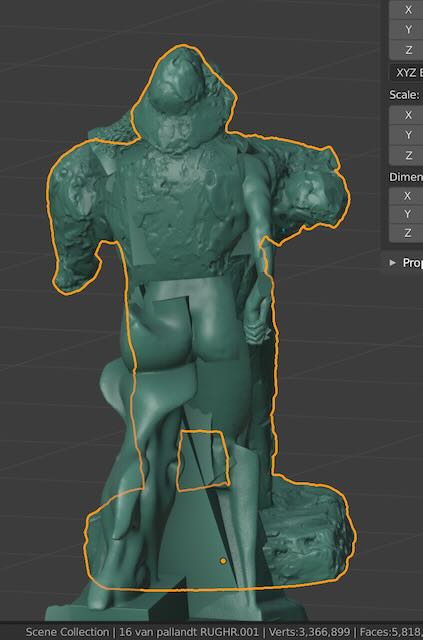 Pantheon can be viewed as a further exploration of the merging of found imagery as applied in both Epitaphium and Nocturne. It was first presented in a dark high-ceiling hall at the Big Art show at the Hembrug terrein. The videowork consists of many photo's from old books, interweaving twentieth century modern sculptures with art-historical, scientific and gone-by fashion photography. Pantheon again shows ever changing human representations, this time in the form of five statueske full body figures that rise up high above the viewer.


Skulptura is an eclectic collection of photographs featuring an array of objects and sculptures. Together they reflect Hauser's research on the juxtaposition of the photograph and sculpture.

In the words of author Merel Bem, "Koen Hauser never starts from the idea that a photo should represent reality in a direct way. As a photographer with a deeply rooted urge to create, he is therefore determined to (be able to) put reality into his own hands where photographic material is as plastic as wax and can be molded into every imaginable shape."

Hauser's work nearly always originates in historical books; from the colours that pervade through bygone publications to the expressive design language and the materiality of photographic reproductions found within. In Skulptura, he introduces sculptural artifacts of disparate origin, processing them with a diverse assortment of approaches and working methods. Importantly, Hauser does not rely on digital rendering alone to conjure up these motifs but also, at times, involves himself in the physical craft of making such pieces with clay. Other photographs derive from the photographs of objects from art history - with their museum like backdrops and in their original reproduction quality - he transforms them into newly envisioned images with the aid of photoshop.

Within his own process, Hauser very much acts as a magician; forming new connections and interactions whilst cross-fertilising various styles and forms from the world of sculpture, photography and fashion. At the same time, Hauser distinctly weaves notions from mythology, animism and spirituality into every corner of his work. All of these divergent methods, references and hybrid manifestations blend seamlessly together and can be interpreted as an anthology from Hauser's wonderful world of biomorphe form language. The addition of source material in the form of clippings from old books that are displayed within this exhibition also fit his ways of thinking.

As a result, not only sources of inspiration, but the origin or indebtedness of a visual idiom can be derived; paraphrasing a famous photo of Avedon and using three-dimensional scans of objects from, among others, the collections of the gemeentemuseum Den Haag and the Centraal Museum, including couture by Viktor and Rolf and Vivienne Westwood. In his works he also uses archives from the likes of Museum Boymans van Beuningen and Spaarnestad Photo. The statuette images in Skulptura evoke on the one hand the desire for spatial experience; of the ability to touch and feel yet the impossibility of this - inherent in the medium of photography - gives the images their sometimes uncomfortable, even oppressive charge. In this sense, Skulptura represents a sculptural dream world that is locked up in the second dimension.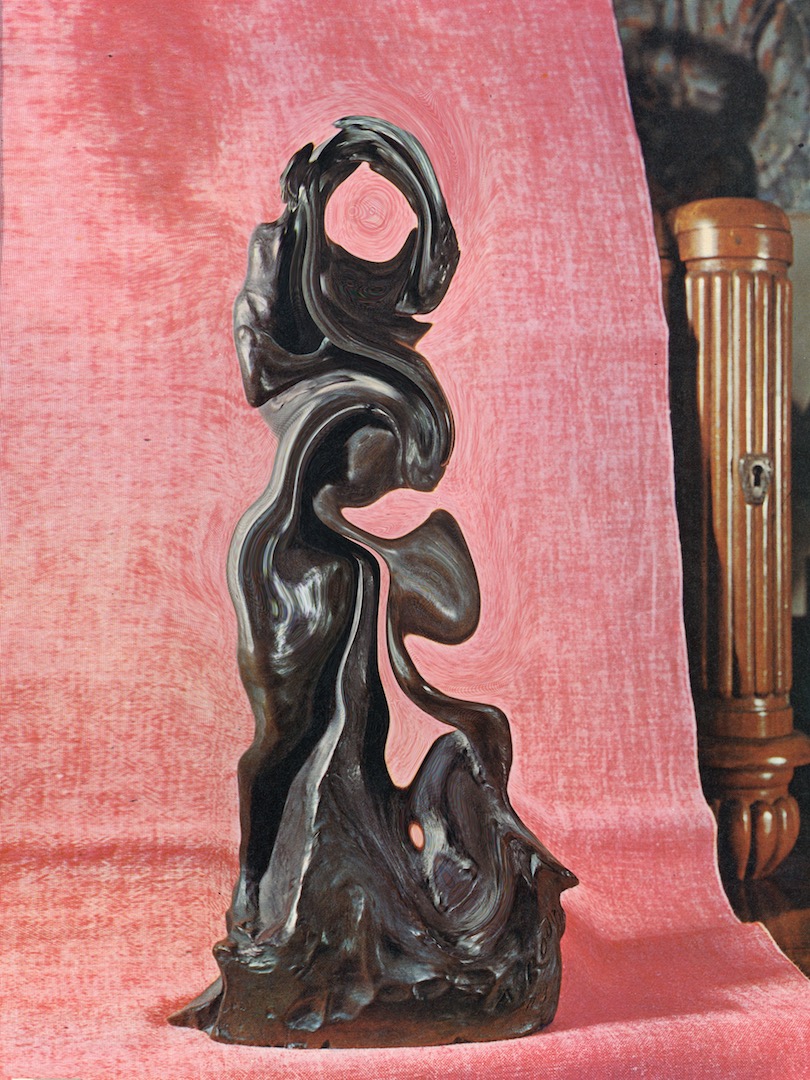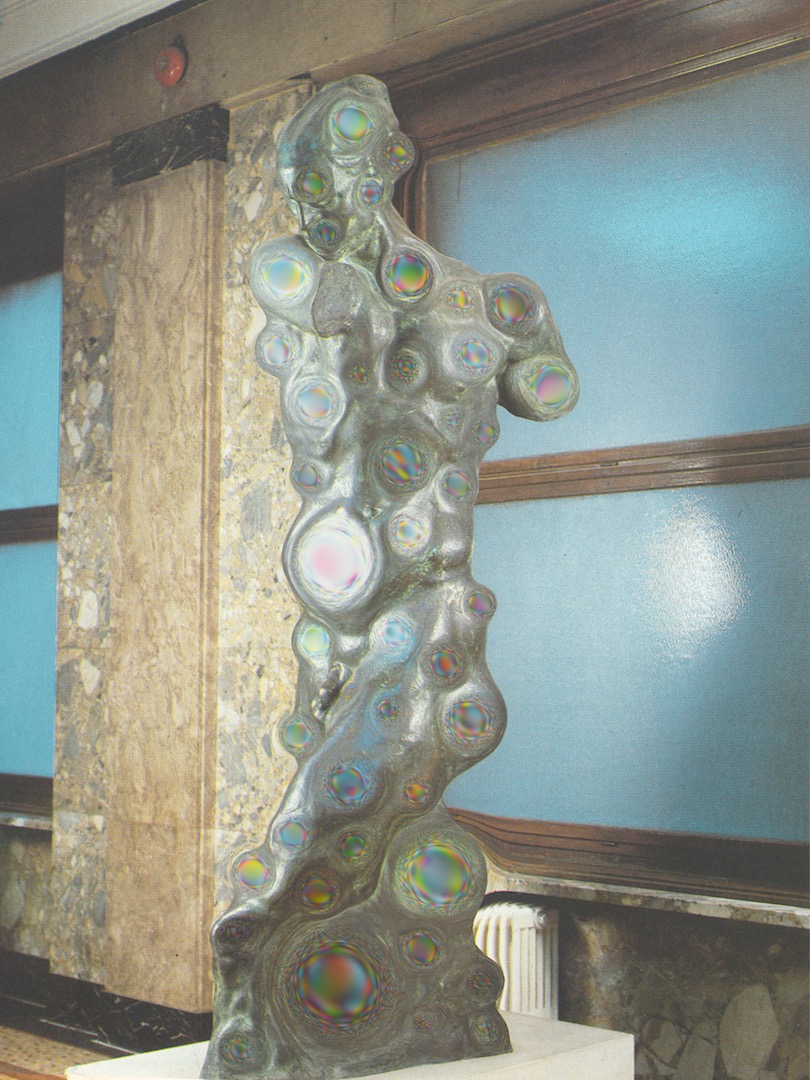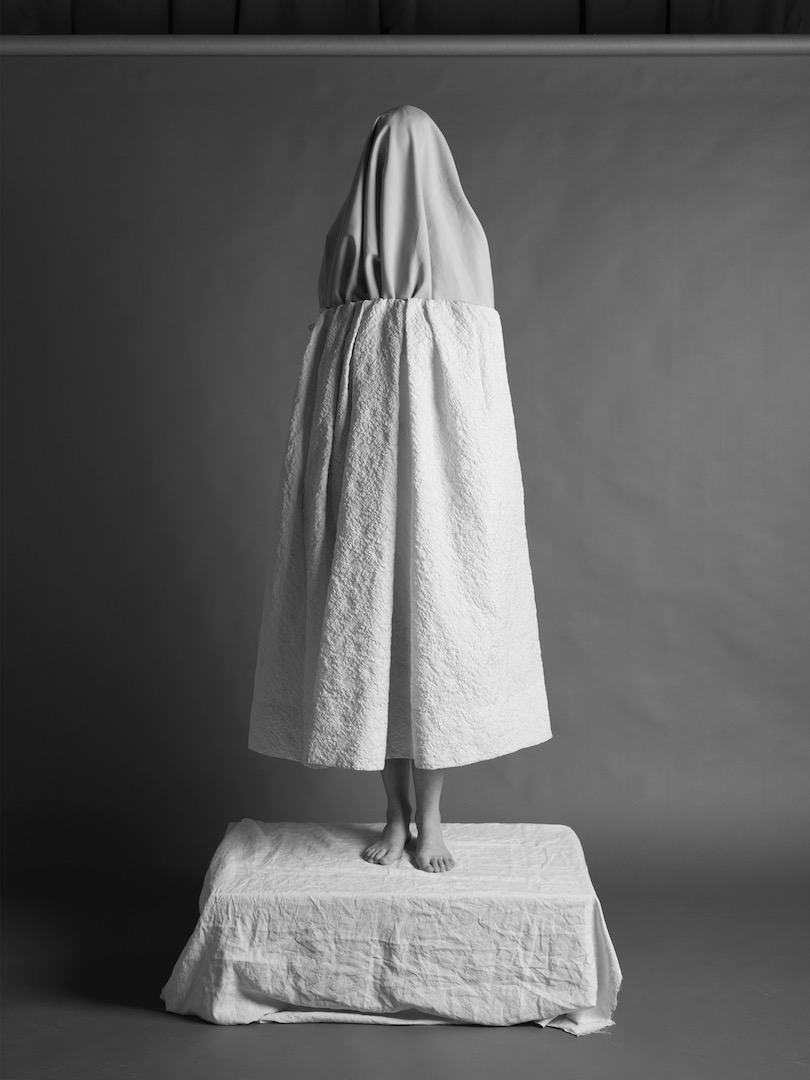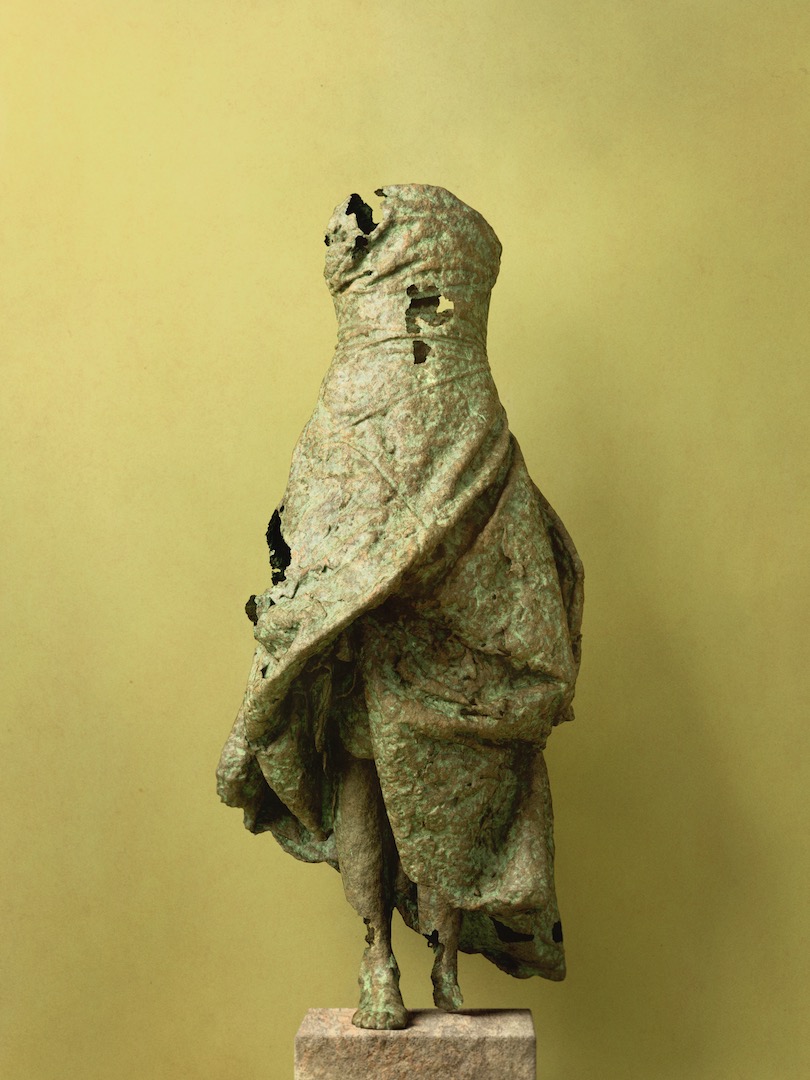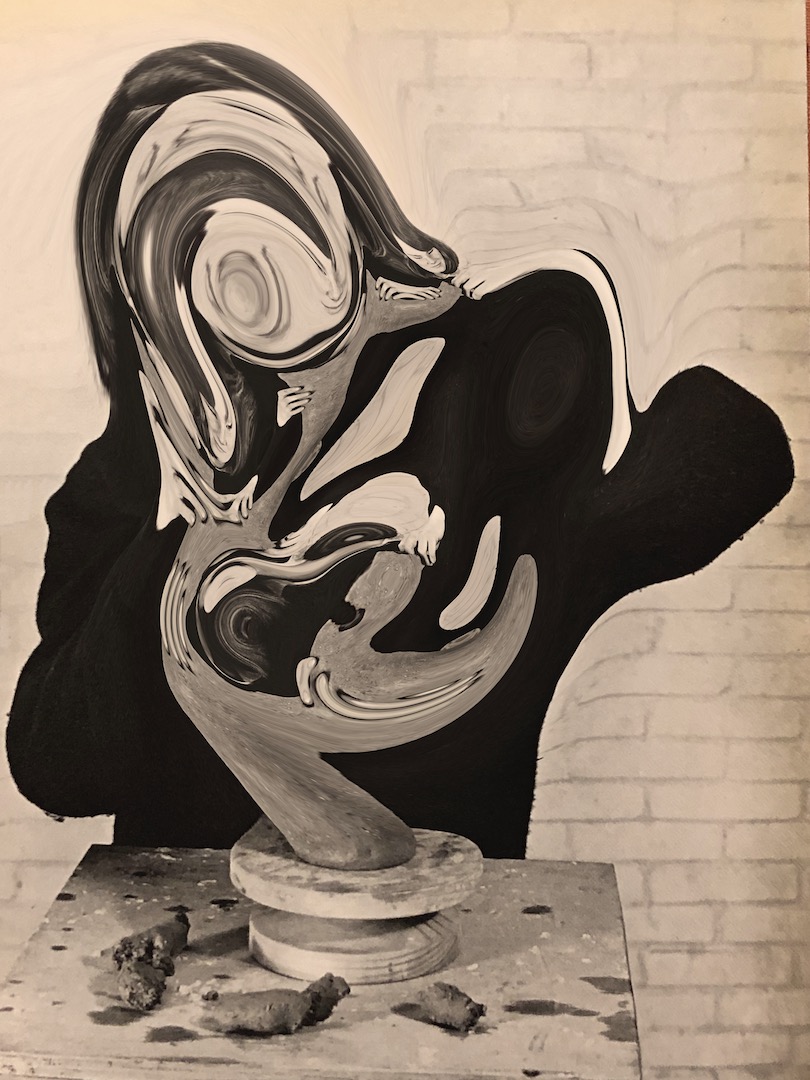 Skulptura
by Kris Kozlowski Moore

The Age of Bronze (L'Âge d'airain) was modelled by the renowned French sculptor Auguste Rodin in 1876. Rodin's first recognised masterpiece, it represented a melding of past, present and future; drawing from Greco-Roman influences, the sculpture demonstrated a previously unseen sense of naturalism and humanistic ambiguity (something that caused waves of initial criticism) whilst also marking the start of a new epoch for modern sculpture. Its provenance includes the Metropolitan Museum of Art in New York, Victoria and Albert Museum in London and the Musée d'Orsay and Salon in Paris amongst countless others.

The Age of Bronze can, perhaps unexpectedly, also be seen here in Skulptura, albeit in a less recognisable formation than its classical iterations. In Koen Hauser's rendition, the realism Rodin casted in bronze has been traded for the aesthetics of modernity and its computer driven counterparts of raster patterns, virtual metamorphose, image synthesis and CYMK colour spectrums, imbued by his reimagining of the iconic sculpture through software-based interventions. Such characteristics contribute to a version of Rodin's masterpiece that is decidedly disparate from the original, yet retains its historical citation, settling somewhere (although it is difficult to say where) in between; microcosms of diffracted CYMK raster balloon outwards, obscuring the famed bodily shapes and lines whilst the new yellowness of the photograph is astutely reflected in the title of the piece, Citrinitas. The term, derived from alchemic practices, refers to the transmutation of silver to gold, not only alluding to the colour in the specific photograph, but more so to the critical notions of alchemy, philosophical thought and experimentation that underpin the work as a whole.

Skulptura is postmodern alchemy, weaving a tapestry of divergent threads from bronze statues, haute couture, iconic photographs of the twentieth century, anatomical models from Dutch institutions and a myriad of archival material from a diverse set of historical books that represent Hauser's incessant intrigue in the past.
Yet in replacement of the archaic workings of traditional alchemy, the assortment of digital rendering processes Hauser uses (except for a sparse number of undisclosed sculptures that Hauser has made from clay) has transmuted the source material into new photographic entities, assigning them previously unassociated colours, textures and forms that reveal a liminal world created from his ceaseless imagination. Artifacts that were previously bound by the static condition of the archive have been given new movement, context and meaning; the historical fertilised by the contemporary, far removed from their former solitary and representational functions to a place of constant oscillation. It is however intriguing to consider that the shrouded practices of antiquated alchemy still hold a palpable parallel to Skulptura. Where once it was the inner processes of the laboratories that were concealed behind cryptic symbolism, it is now the opaque software algorithms that dictate the software's capabilities that are hidden from the viewer. Because of this, there is a persistent sense of wonderment that ripples through Skulptura, stemming from the alluring uncertainty as to the extent of reality that is in front of us and the possibilities that such a space prompts.

Whilst it is easy for the omnipresent idea of technology today to evoke thoughts of apathetic binary perspectives, unfathomable workings and data dominated by colossal, abstract notions, this isn't the technology of Skulptura. Here it is harnessed akin to a brush, wetted with virtual paint and ink before being handed to Hauser to connect imagination and execution in a poetic dialect, at times resembling the early Japanese art of marbling, Suminagashi. Skulptura is also neither simply a compounding of technologies and archives to create new forms for us to look at in awe of their visual arrangements; the archival fragments included in the original installation (allowing us a momentary view into the connectedness of Hauser's thinking) are the agents to catalyse conversations surrounding mythology, animism, consumerism, technology, fashion, history and art. We start to draw out our own thoughts alongside Hauser's fluid nexus of sculptural forms, skipping back and forth through a work that continually exhibits a profound and genuine sense of fascination for the past, present and future.


publication Skulptura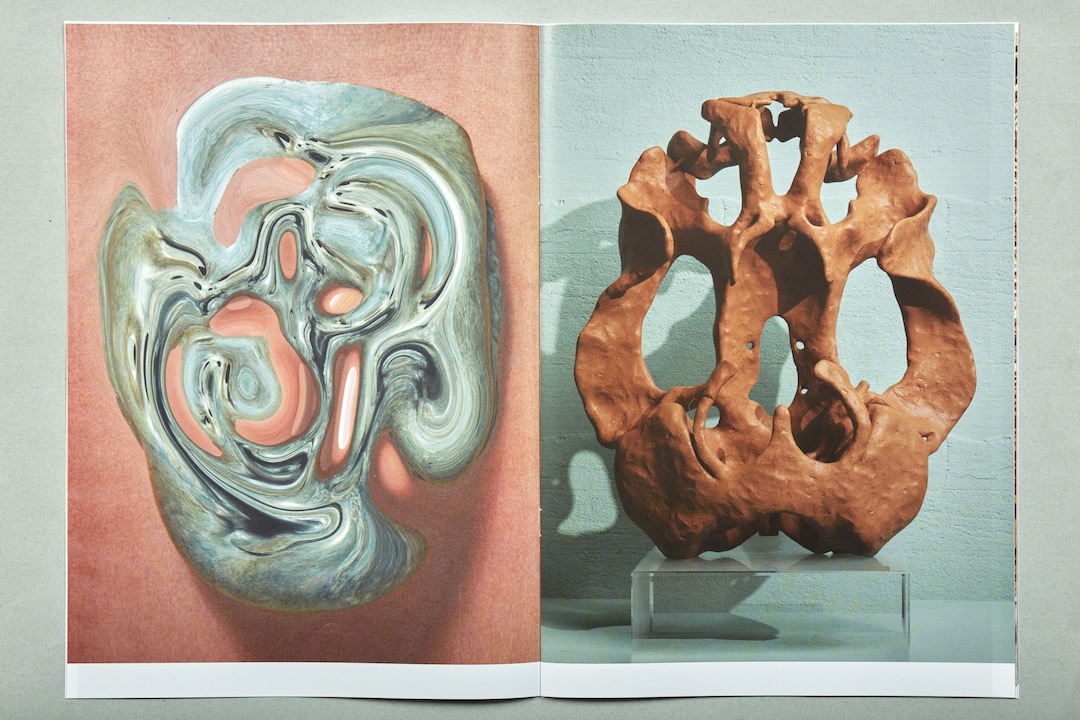 This publication was made for the occasion of the presentation of Skulptura at Unseen Photo Fair 2019. design by Bart de Baets, Edition 100 copies.



Koen Hauser was invited to create a new work in the Hortus Botanicus of the university city Leiden, to be presented on the occasion of de nacht van ontdekkingen. A night full of presentations, exhibitions and lectures that covers the long tradition of art and history of the city of Leiden, involving it's museums, cultural institutes and Holland's leading scientists.

Hauser chose the paviljon in the Von Siebold memorial japanese Garden as a contemplative site to lay out an ever changing human form. The videowork consists of many photo's from old books. Twentieth century modern sculptures interweave with art historical, scientific and gone-by fashion photography in this animated Vanitas collage.





Epitaphium is a video animation of vintage images from old books. It premiered at the Unseen Photo Fair, and was presented in a groupshow of museum de lakenhal at de meelfabriek.
Galerie 37 Spaarnestad
invited me to make new work with material from the
Spaarnestad Photo archive
, one of the largest press archives in Europe.
De Luister van het Land
(2008) is a caleidoscopic collection of over 400 photographs from the archive. By means of a selection based on personal interests, fascination, and my obsession with the notion of 'the diorama', it interweaves impressions of a (re-created) fantasy world with pictures on the process of creation, using my personal appearance. These
images of the creation process
– I call them performéances -, are the residu of performances held to invoke the spirit of creation. In the
exhibition
, together with the narratives of old photographs they form an installation on imagination and ephemerality. Next to the exhibition I created a
book
with graphic designer
Bart de Baets
.
book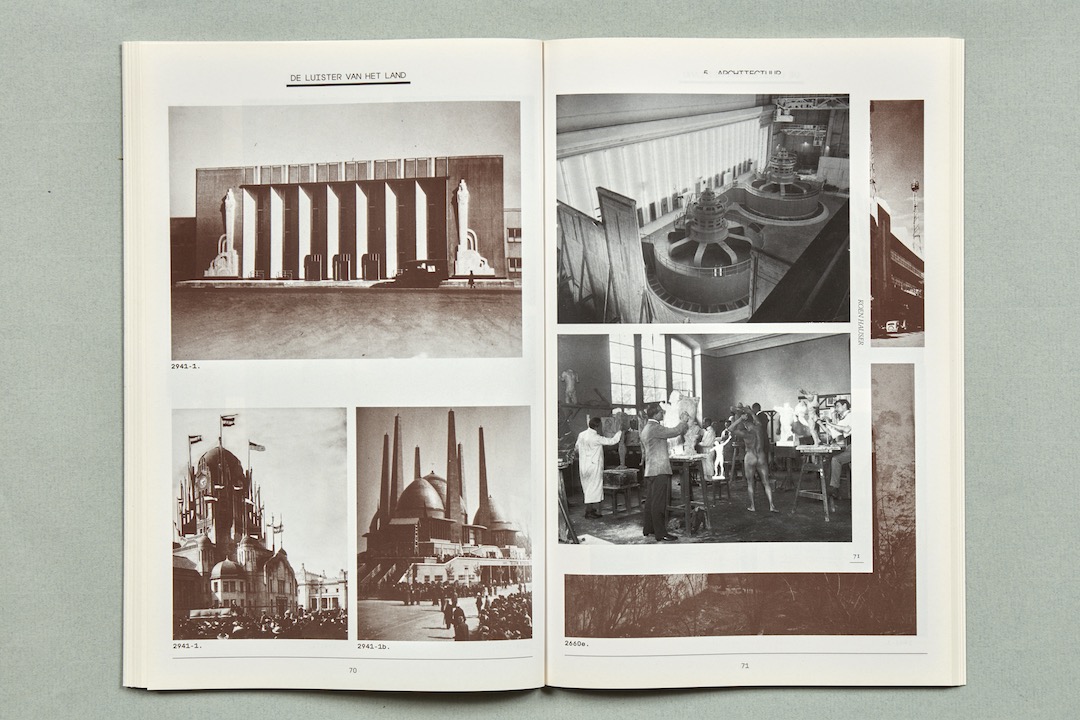 Amethyst
video



Amethyst initially was created as a site-specific installation with images and sound. Slowly dissolving slides reminisce the process of decay. The automated slideshow is projected in a dimly lit but richly decorated room, the visual style of the imagery referring to fashion photography. The work was created on the occasion of Salon/1, by whom I was invited to show my work in Museum van Loon during the Amsterdam Fashion Week 2010.
The video is currently on show at Stedelijk Museum de Lakenhal in Leiden, as part of their permanent collection.

music: Reyer Zwart/ model: Valentijn de Hingh / make-up: Louise van Huisstede / assistant: Mo Schalkx / special thanks to: Iris Box, Ania Pawelec, Stedelijk Museum de Lakenhal and Museum van Loon.
Marks of Honour
artist book

As a homage to the photobook per se the exhibition Marks Of Honour – A Striking Library was created by Amsterdam based gallery van Zoetendaal Collections and Cologne bookseller Markus Schaden. They invited 45 international photographers to choose a photobook which was influential to the formation of their work, and to pay it artistical homage. In this project I substituted the original pictures of the 1930's book Kinderen by Paul Eipper with found images from other old books, and designed it a new dust cover.